Australian Water Ionizer Comparison and Reviews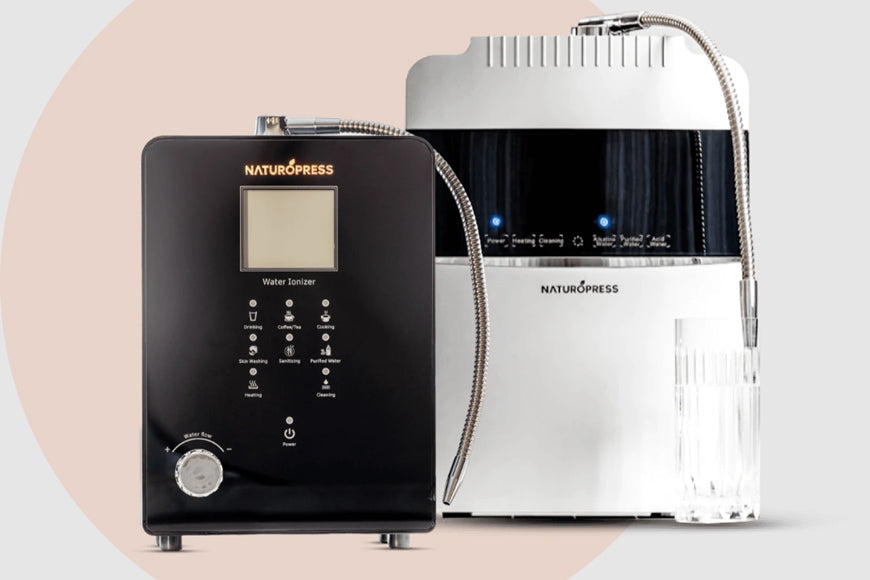 While tap water in Australia is generally safe to drink, it can still contain chlorine and other impurities that can affect its taste and quality. Alkaline water filters are a great way to improve the taste of your water and remove any harmful contaminants that may be present.

With many different brands and models of alkaline water filters on the market it's important to do your research to find the one that best suits your needs. To help you make an informed decision, we've made an alkaline water ionizers comparison chart of our products alongside some of the most sought after brands to help you decide which one is right for you.
| | | | | |
| --- | --- | --- | --- | --- |
| Ionizers Feature Comparison | Naturopress Models | Vesta H2 (Alka Viva) | Leveluk sd501 (Enagic) | Leveluk K8 (Enagic) |
| Price | $1999-2499 | $3999 | $4565 | $5907 |
| pH range | 3 - 11.2 | 2.5 - 10.5 | 2.5 - 9.5 | 2.5 - 9.5 |
| ORP at drinking level | Great | Great | Great | Great |
| H2 Performance | Good | Good | Not Disclosed | Not disclosed |
| Cleaning | Self cleaning | Continuous | Periodic | Periodic |
| Filter | Dual filter | Dial filter | Single filter | Single filter |
| Number of Plates | 8 | 9 | 7 | 8 |
| Filter Life | Up to 9000 L | 4000 L | 5500 L | 5500 L |
| Removes Fluoride | Yes | Yes | No | No |
| Removes Chlorine | Yes | Yes | No | No |
| Flow Control | Yes | Yes | No | No |
| Deep Cleaning Required | No | No | Yes | Yes |
Alkaline Water Myths Debunked: Kangen vs Other Ionizers
There is a lot of misinformation on the internet about water ionizers. It is important to do your research and make an educated decision when choosing an ionizer. There are many factors to consider, such as performance, price, and support. Make sure to choose a reputable company with properly trained water professionals. This will ensure that you are getting the best quality ionizer and support.
Myth 1: Kangen Water® Is Expensive Because It Is Unmatched
The Enagic™ models are decent ionizers, but having a foreign parent company and up to eight representatives making a high amount of money from each sale you will get a price that reflects that. 
Generally speaking, MLM representatives often lack a good technical knowledge of the products they sell. It is hard to get past the feeling that you are overpaying when buying an ionizer from an MLM when you compare the price with what you would pay if you bought the same machine directly from the manufacturer. The good news is that there are alkaline water filters on the market that have the same, or often better, performance as Enagic ones, at half the price.
As an example you can take a look at Naturopress models, both priced at half the price of Enagic models, with self cleaning functions and strong filters that even remove chlorine and fluoride from the tap water.
Myth 2: Alkaline water is not the same as Kangen Water® 
Enagic Kangen Water is a type of alkaline water that has been ionized in order to create a balance of acid and alkaline in the body. The company Enagic uses a multi-level marketing strategy in order to get their product out to those who can benefit from it and also educate people about the benefits of ionized water. While the technology used in their machines is not unique, they are doing a good job at making this important health information available to the public.
The common misconception about Kangen Water® is that it is completely unique, but that is not the truth. You can definitely get same grade alkaline water with other alkaline fitlers, and oftentimes you can even get more purified water as well. While they have been in the industry for quite some time, they are not the only option and should keep up with new competitors entering the market.
Myth 3: Experts Prefer Enagic™ ionizers
Water filters are an important purchase because they provide clean water for drinking and cooking. Many people assume that all water filters are the same, but there is a lot of variation in quality. When experts need to buy a water filter, they look for a machine that will remove impurities without removing essential minerals. They also look for a machine that is easy to use and maintain. In the past, Kangen was the preferred brand for experts, but that has changed in recent years. New brands have been introduced to the market, and they offer better performance at a lower price. 
Naturopress is committed to providing the cleanest and healthiest water for everybody. We offer our alkaline water filters at affordable prices in the most environmentally sustainable way possible. Our filters have the highest levels of performance, service and integrity.  We are constantly innovating to bring our customers the best products possible. Our filters are backed by a satisfaction guarantee, so you can be sure you're getting the best alkaline water filter Australia has to offer. Contact us today to learn more about our alkaline water filters and how they can benefit your health and well-being.
May 30, 2022

Category:

Alkaline Water
Comments: 0