Naturopress Ice Bath for Sale - Home and Commercial use
Always Clean, always cold. Recover faster, reduce muscle soreness, and improve overall health with one of the top ice baths for sale on the market.
Affordable cold immersion therapy for home or small business
Choose from either portable/inflatable or permanent cast stone designs
Cools down to 3°C (32°F)
AC Cable with leakage protection switch
Built-in high efficiency ozone sterilization
Option to control operation with iOS or Android App
370L tub capacity
30-35 kg portable ice bath set equipped with carry handle and transport wheels
Easy to install
Built-in self-priming system
610W or 710W input power
480W or 605W compressor power
Automatic start/stop and constant temperature system
Anti-freeze system and overheating protection
Suitable for indoor and outdoor use
Cooling time as low as 1.2 hours
Customizable colors
Permanent ice tub comes available in 6 beautiful shapes and sizes and includes wooden stool
One year warranty
Invigorating Ice Baths for the Home or Garden
Whether you call it an ice bath, cold tub, cold spa, or cold plunge, cold immersion therapy is the latest therapeutic trend that many brave bathers feel aids in the relief of everything from muscle aches and pains to the symptoms of anxiety, depression, dementia, and even low testosterone.
Our revolutionary Naturopress ice baths use quality craftsmanship and powerful cooling, filtration, and sanitation components to give you cold, clean water whenever, and wherever, you want it. Whether you plan to make an ice tub a permanent fixture in your home or yard, or you want to take it with you on your travels for on-the-road muscle recovery, we have the perfect ice bathtub for you at an excellent price.
The Naturopress ice bath was created with convenience and value in mind. The built-in high efficiency ozone sterilization system means you spend more time investing in your health and wellbeing and less time—and money—cleaning and maintaining your ice bath. We've even made it simple to operate your cold bath by partnering with a smart app available on both iOS and Android devices.
Two different ice chillers let you choose how much horsepower you need to help reduce inflammation and sooth those stiff joints and body aches. And a variety of customizable sizes and color options make selecting the most aesthetically pleasing cold spa for your home or business an enjoyable task.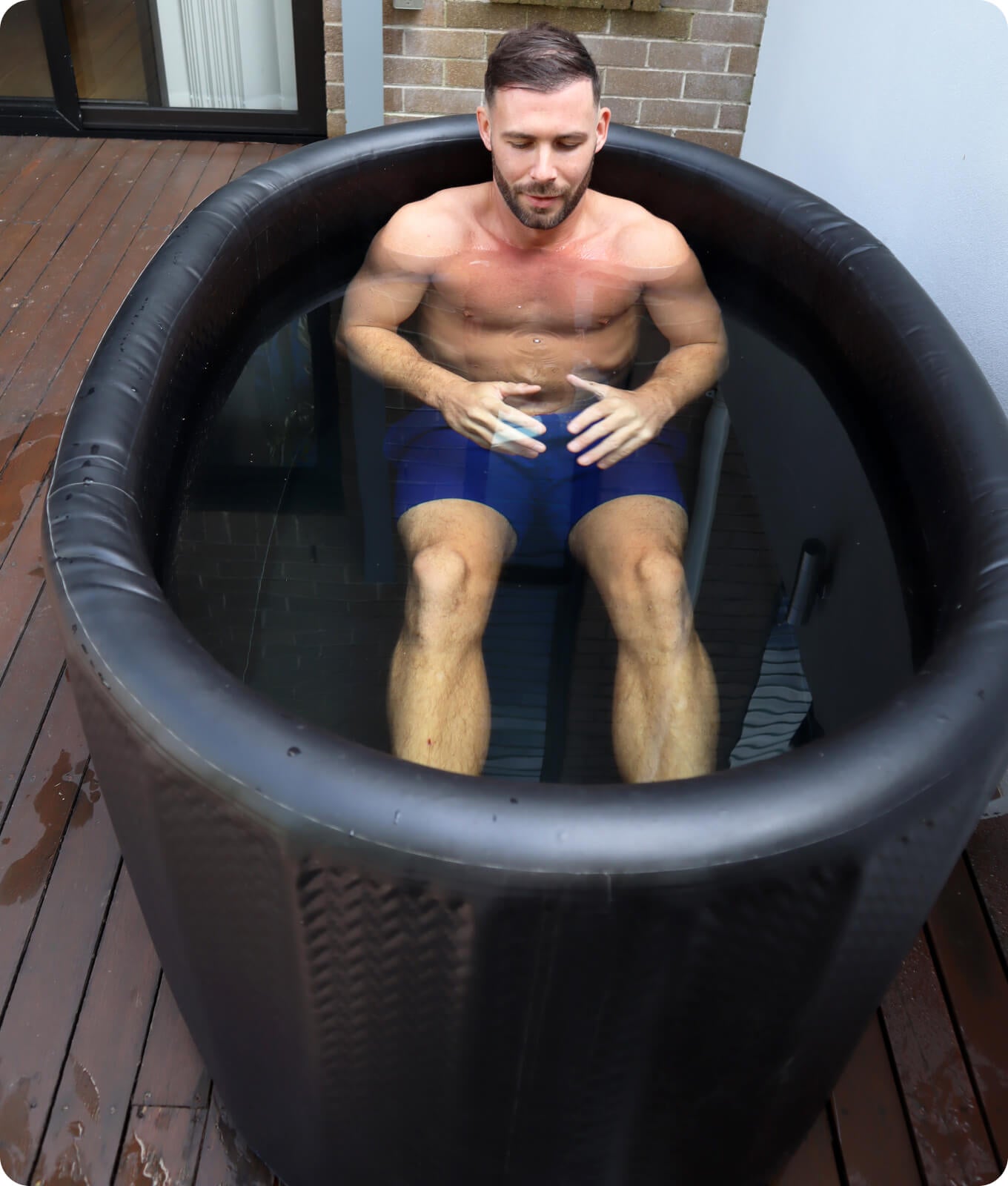 Portable Ice Baths
Not ready to plunge into a commitment with a permanent cold bath tub or want to be able to easily take your own ice bath with you on the road? Our 16 kg (35 lb.) inflatable ice baths are the perfect solution for your non-permanent cold water therapy sessions.
Suitable for indoor and outdoor use and equipped with both a carry handle and transport wheels, this quiet portable cold tub is perfect to enjoy anytime, anywhere. Just use the included hand pump to inflate your therapeutic ice bath, fill it with up to 370L (97 gallons) of water, stretch out in the 53" long tub, and feel the anxiety, inflammation, and muscle soreness dissipate.
Available in a range of customizable colors and with the choice of two different ice chiller speeds (480W or 605W), finding the most suitable cold-water bath for your needs is simple. Assembly is stress-free with the included hose pipe and quick connectors, and the option of using an app on iOS and Android devices makes operation effortless.
If you're ready to experience the therapeutic benefits of ice bathing, dip right in and check out our cool selection of portable ice baths!
Subscribe For Juicy Tips And Recipes